Soap Fountain Product Line

SOLID DETERGENT IN A DISPOSABLE DISPENSER

Introducing the Patent Pending Soap Fountain line of super concentrated SOLID DETERGENTS. Soap Fountain Saves You 20% in soap costs and makes your life easy with a simple 60 second install and NEVER REQUIRES SERVICE. Our DISPOSABLE DISPENSING SYSTEM is easy to operate, saves you time and provides superior cleaning power. Soap Fountain is a solid detergent, AVOIDING FREE POURING and saves you money!

POT, PAN & UTENSIL CLEANER
SUDSLESS KITCHEN FLOOR CLEANER

---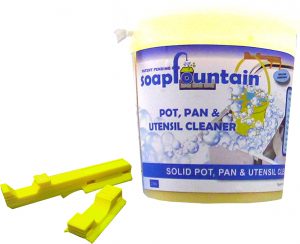 POT, PAN & UTENSIL CLEANER
Our flagship Pot, Pan & Utensil cleaner for your business that specifically designed to remove grease from pots and pans in a convenient disposable dispenser. It's a concentrated solid formula which helps reduce wasted product without compromising potency. Safe, economical, and convenient for all soil loads and water conditions. And prevents free pouring.
---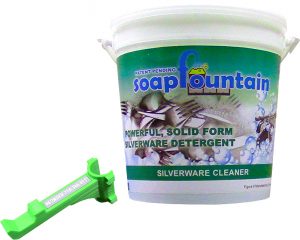 SILVERWARE CLEANER

Soap Fountain Silverware cleaner is a powerful silverware cleaner and detarnisher which is designed for a multitude of industrial and institutional cleansing of silverware. Soap Fountain Silverware is conveniently dispensed with a unique patented disposable dispenser.
---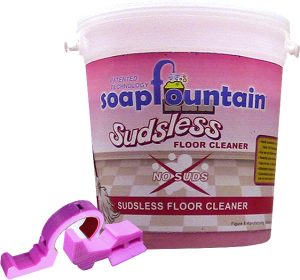 SUDSLESS  KITCHEN FLOOR CLEANER
Designed specifically for degreasing and removal of stubborn greasy soils off of your kitchen floor. It cleans the floor by removing surface soils and breaks down the most resistant grease for maintaining a floor that is truly clean and odor free.


Soap fountain's highly concentrated solution can make up to 5 gallons of grease fighting power. And with the convenient dispenser, their are no holes to drill in your walls and you never have to call for service. Your business is important to you and keeping it clean is important to us. Call a representative to learn more on how we can save you money on your soap needs.
And speak to trained professional who will show you how to save you up to 20% in soap costs using Soap Fountain.