*The CDC reports that eight people infected with the outbreak strains of Listeria monocytogenes have been reported from three states (California, Maryland and Washington). Retailers and restaurants should not serve any of the recalled products and should dispose of them. If they do not know the source of their frozen vegetable products, they should check with the supplier.
Retailers, restaurants, and other food service operators who have processed and packaged any potentially contaminated products need to be concerned about cross contamination of cutting surfaces and utensils through contact with the potentially contaminated products.
Regular frequent cleaning and sanitizing of cutting boards and utensils with Sani Clean may help to minimize the likelihood of cross-contamination.
Wash and sanitize display cases and refrigerators where potentially contaminated products were stored.
Wash and sanitize cutting boards, surfaces, and utensils used to cut, serve, or store potentially contaminated products.
Wash hands with warm water and soap following the cleaning and sanitation process.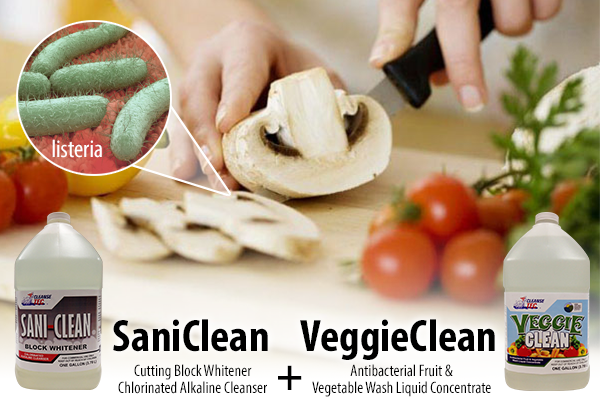 Listeria can grow at refrigeration temperatures in foods. Listeria can also cross contaminate other food cut and served on the same cutting board or stored in the same area. Retailers, restaurants, and other food service operators may wish to consider whether other foods available for sale could have been cross-contaminated from the potentially contaminated products, and should be discarded.
Whether it's frozen or fresh organic, always wash your produce with Veggie Clean Antibacterial Fruit & Vegetable Wash as a safe way to dissolve bacteria and prevent food-borne illness.